---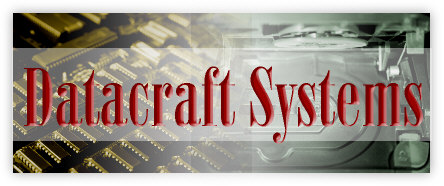 What is Datacraft Systems Inc. all about!
---
Introduction
has 8 years of computer experience in various Institutes & Corporations nationwide.

Dhiong Computer Center was established in 1997 to cater for the needs of both commercial and non-commercial establishments through Information Technology or IT.

The initial operation was focused on the supply of computers to various business establishments and individuals for personal use.

In 1998 the Management Information Team was formed to implement the needs of Computer Aided Business System or CABS.

Our Technical Support Team has a vast work exposures and experience for more than 10 years in different companies.

We have vast associations through different computer brands and softwares. After three years of computer experience we are now introducing 3CMT Systems Inc. which consisting of six well trained incorporators manage to take the business seriously by making the sole-proprietorship to a corporation.

Now we're gaining a new lead, we've established the World Wide Web Team and sometime next year more teams will be produced.

We are aiming more into new heights on a better future for us and the generations to come.
Our Divisions
| | |
| --- | --- |
| Dhiong Computer Center & 3CMT Systems Inc. has three divisions to suit your technological needs. First, The Technical Team, they are the one in charge of computer installations, Local Area Networking or LAN, maintenance, Upgrading & Set up. The Management Information Team, Computer Aided Business System (CABS) are the specialty of this team. They are the programmers, estimators, analyst and designer of CABS. They make your business a lot easier to handle and | no need for more manpower to do such specific task. And lastly the World Wide Web Team, they promote your business not just local but worldwide. They create web pages, web programming and promotion. Through these teams, we have established many affiliates here and abroad for the services they rendered to us. We can give the best of our services and products to make your business more productive and have a high-end of technology. |
Our Team Leaders
Corporate President:
Mr. Diony Collera
Diony Collera is a retired electrical and mechanical manager of Phelps Dodge Philippines Inc. for 35 years and trained in Asia Institute of Management. He's an expert in industrial and technical services.
Corporate Vise-President:
Ms. Rita Collera
Rita Collera is the sole proprietress of Dhiong Computer Center on the early years and has been the operations manager ever since. She's been with the company since 1990 & she's an expert in customer's relations and support.
Corporate Treasurer:
Mr. Donniel "Dhon" Collera
| | |
| --- | --- |
| | Dhon Collera is a graduate of Bachelor of Arts in Business Administration Major in Computer Application at De La Salle University, Batch 1997. He is the pioneer of Dhiong Computer Center since 1993 and earned the specialty of creating CADS and computer technical. He is also the webmaster who design this webpage so feel free to contact him at dhongens@edsamail.com.ph. |
Technical Support Team Manager:
Mr. Ricardo "John" Baladjay Jr.
John Baladjay is a graduate of Bachelor of Science in Nursing at Quezon City Medical Center Batch 1996. he's been with Dhiong Computer Center for the past five years and trained by Dhon to be part of the family. He attended lots of computer technical seminars including the GID-Intel Pentium II and III training program.
World Wide Web Team Manager:
Ms. Emelyn "Mhel" Collera
Mhel Collera is a gradute of Bachelor of Science in Computer Designing at AMA computer College Batch 1999. She's been with the company since 1997. She's been designing computer graphics and designs for promotional purposes. An HTML & Java Scripting Expert in Internet web page designs.