---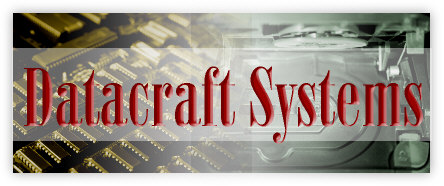 What Datacraft Systems Inc. can offer you!
---
We offer the best in computer peripherals, software, and services that you need in your business, your company or for your personal use. We have the best top quality of computer consultants from every corner of the Philippines. Our technical professionals can assist you in computer upgrading or just buying a new set of desktop computer for your office, they will be the one to give the finest but cheapest brands here and around the world. Our programmers and systems analyst who have worked in various institutions have teamed up to create software that will change your business foresights in the near future & CABS is the answer to that competitive edge in the business world.
Technical Division Teams
Computer Upgrading
Desktop Consultation
Communication Installation
Software/Hardware Cleanup
Computer Maintenance
LAN Installations
Computer Printing
Server Settings
Computer Installations
Hardware Consultations
Computer Repairs/Assembly
Corporate IT Analysis
Intranet Installation
Troubleshooting
Technical Training
Management Information Team
CABS Programming
Software Consultations
Web Programming
Web Development
CABS Analysis
Logo Designing
Information Communication
LAN/Web Installation
CABS Designs
Corporate Documentation
Vlink Installation
ISP Installation
Computer Upgrading & Assembly

Our company has a wide range of product we can sell from different type of known brands. We can upgrade you computer from TX type to Pentium III to AMD Athlon enhance processor and many more. We all know that computers advancement nowadays is fast due to our need of much faster and more reliable computers, we can offer these product to you by upgrading your computer or buying a new one from us. Intel, Seagate, Matrox, S3, Panasonic, Wearnes, AMD, are some of the products we offer.

LAN / Intranet / Web Installations

We can also install your company or business a variety of network products. CNET, 3Com, Genius, Ethernet, are some of the products we sell. from 4 port to 24 port or more. Your company's branch office will have an up to date information to your main branch by the use if Intranet or WAN (wide area network). We can even install a single port multi-user Internet connection to your company by using both LAN & WAN at the same time. Or if you are having plans on creating a Web cafe we are the answer to your needs.